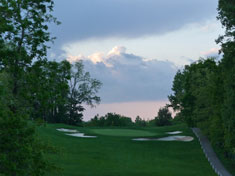 The 11th at Quicksilver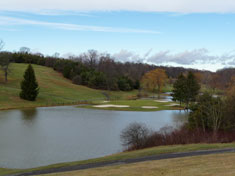 The view from the 2nd tee at Ponderosa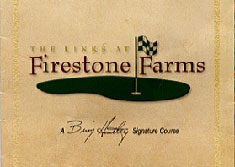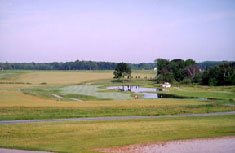 The 18th at Firestone Farms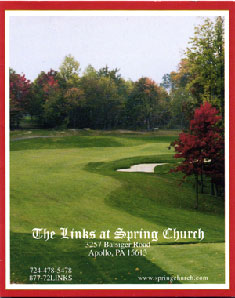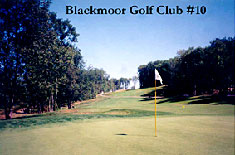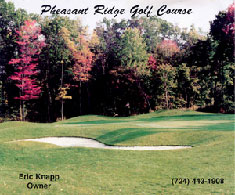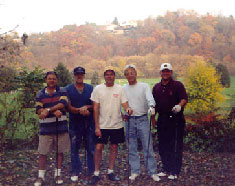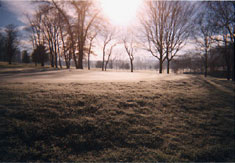 A frosty Lindenwood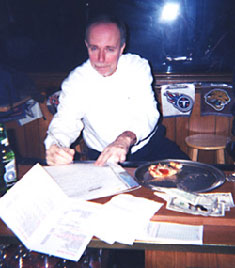 The Commish, Joe C., signing proposals into PAC law.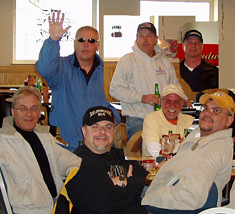 The crew at the PAC meeting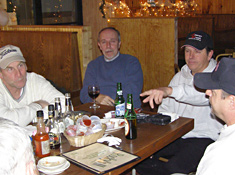 The commish ruling on cases at the Unuts Xmas party, '05.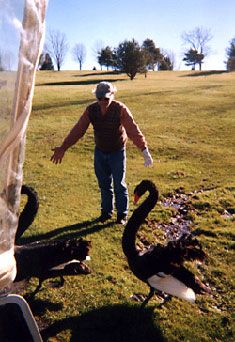 We joined up with these two strange guys on the 12th......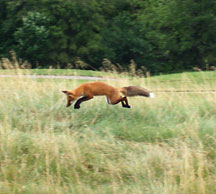 Bone's great shot of a fox at Reserve Run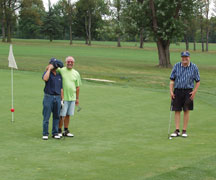 Updated Tuesday, April 22, 2014
=========
This Sunday, April 27th, Quicksilver Golf Club, 9 am Tee Off

The Tour visit our most popular stop – Quicksilver Golf Club – this coming Sunday, April 27th. Please note the earlier tee off time – 9am and plan accordingly. The weather looks to be typical Spring with a high in the upper 50's and no rain.

I must call in the final times this Thursday at noon, so please respond by email reply or calling me if you plan to attend. We have had a full house at Quicksilver several times, so make your reservation ASAP.

The 2014 PAC Masters

The PAC Tour had 21 players tee it up on a perfect spring day for the 2014 PAC Masters at Pheasant Ridge Golf Club. The course played tough as usual, but after all the scores were tallied the results gave the title to none other than Mark (Spags) Wargo who posted a net 71. Tying for second place and sharing second and third place money were Larry M. and RJ who each shot a net 74.

Congratulations to Spags for a well-deserved victory and his first PAC Tour Major win and thanks to everyone who participated for making this tournament.


Next Week – May 4th – Millcreek North Golf Club

The Tour stops next week at the great Millcreek North Golf Club in Ohio. Tee off time is earlier than usual – 9:18 am – so schedule your travel plans to be at the course on time.


Overheard at the PAC Masters

"Who is the long haired homeless guy with the nice set of golf clubs?"
"That's Andy S. He gave up going to the barber for Lent."
All inormation in this newsletter is protected by US copyright laws 2012. All comments made do not necessarily apply to any person living or dead and are for informational purposes only. Reproduction of any or part of this newsletter is permitted only by written consent of the PAC Tour Editor.
---
Check out Tin Cup's latest Story

===========================
2014 PAC Tour Schedule
April 6th --- Season opens. Blackmoor Golf Club --- 10 am
April 13th --- First Major – PAC Masters –
Pheasant Ridge Golf Club --- 10am
April 20th --- Firestone Farms --- 10am
April 27th --- Quicksilver --- 9am
May 4th --- MillCreek North --- 9:18 am
May 11th --- Beaver Valley Golf Club --- 9:30 am
May 18th --- Oaktree Golf Club --- 10 am
May 25th --- Village Green --- 9 am
June 1st --- Aubrey's Dub's Dread --- 9 am
June 8th --- Quicksilver ---9:04 am
June 15th --- Second Major – PAC Open –
Firestone Farms --- 8 am
June 22nd --- Ponderosa Golf Club --- 9 am
June 29th --- Tam O'Shanter --- 9:32
July 6th --- North Park --- 8 am
July 13th --- Mill Creek South --- 9:45 am
July 20th --- Third Major – The Memorial –
Beaver Valley Golf Club --- 9 am
July 27th --- Quicksilver Golf Club --- 8:48 am
Aug. 3rd --- Lake Arthur Golf Club --- 9 am
Aug. 10th --- Pheasant Ridge --- 9 am
Aug. 17th --- Oaktree Golf Club --- 9:45 am $50
Aug. 24th --- Mill Creek North --- 9: 27 am
Aug. 31st --- South Park Golf Club --- 8:00 am
Sept. 7th --- Spring Church Golf Club (Time to be determined)
Sept. 14th --- Blackmoor Golf Club --- 9:30 am
Sept 21st --- Fourth Major – The Crafton Open -
Ponderosa Golf Club --- 10 am
Sept. 28th --- Big Skins Day – Quicksilver Golf Club --- 9:30 am

-------------------------------------------------------------------
Back to top
Can't find your way? Check out this site: http://www.thegolfcourses.net/index.html
====================================


Cool sites for interested tour players:
Check out the new and exciting PAC Talk blog:
http://sujdakpaintings.tripod.com/apactourblog/

To check your handicap status and enter a score:
http://www.kpga.com
To check the weather:
http://www.intellicast.com
Andy Sujdak's website:
http://afsujdak.com