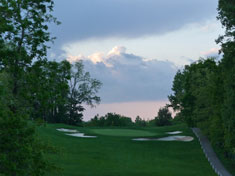 The 11th at Quicksilver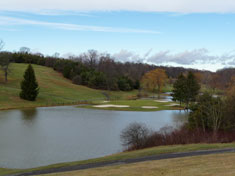 The view from the 2nd tee at Ponderosa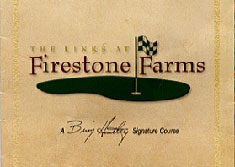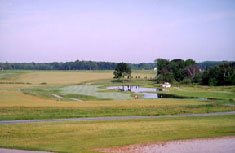 The 18th at Firestone Farms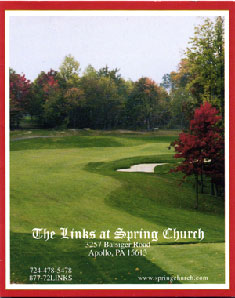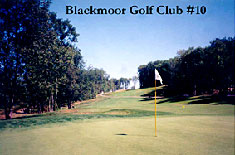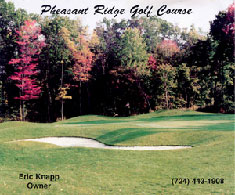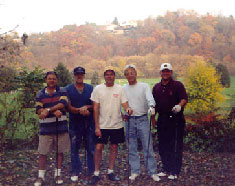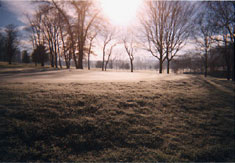 A frosty Lindenwood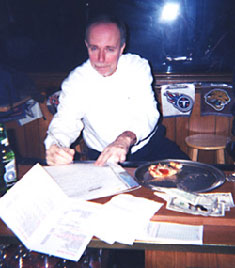 The Commish, Joe C., signing proposals into PAC law.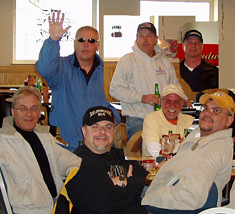 The crew at the PAC meeting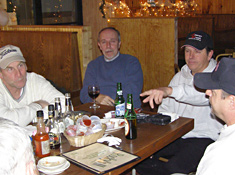 The commish ruling on cases at the Unuts Xmas party, '05.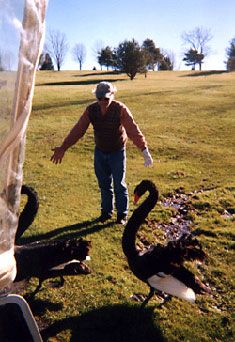 We joined up with these two strange guys on the 12th......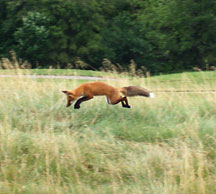 Bone's great shot of a fox at Reserve Run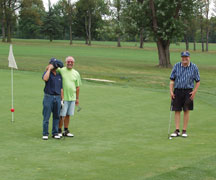 Updated Wednesday, July 20, 2016
=========
This Sunday, July 24th, Black Hawk Golf Course, Course 3&4 9:20am
It's back down to Beaver Valley with a return trip to Black Hawk Golf Course. Tee off time is a little earlier this Sunday – 9:20 am – so plan your drive accordingly. We will be playing course 3&4 this time around. I will be calling in the player count on Friday at noon so please respond ASAP if you are planning to join the gang this weekend.

PAC Tour Facebook Page Check our new additions to our PAC Tour Facebook page and post your own. Here's the link: https://www.facebook.com/The-PAC-Tour-1527596224120207/
All inormation in this newsletter is protected by US copyright laws 2012. All comments made do not necessarily apply to any person living or dead and are for informational purposes only. Reproduction of any or part of this newsletter is permitted only by written consent of the PAC Tour Editor.
---
Check out Tin Cup's latest Story

===========================
2016 PAC Tour Golf Schedule
APRIL
3rd Quicksilver, 9:30 - $45
10th PAC Masters Major – Pheasant Ridge Golf Course, 10:00
17th Rolling Acres, 10:00 N & S
24th Blackhawk, 10:00 1 & 2
MAY
1st Pittsburgh North, 9:45
8th Mother's Day – Beaver Valley Golf Club, 9:30
15th Stonecrest, 9:34
22nd Aubrey's Dubbs Dred, 9:30
29st Memorial Day weekend, North Park, 8:00
JUNE
5th Shadow Lakes Golf Club, 9:30
12th Hiland. 10:00
19th PAC Open Major - Firestone Farms, 9:50
26th Rittswood, 9:30
JULY
3rd Fourth of July Holiday Weekend - North Park Golf Course, 8 am
10th PAC Memorial Major - Pittsburgh North, 9:45
17th Rolling Acres N & S, 10:00
24th Blackhawk 3 & 4, 9:20
31st Beaver Valley Golf Club, 9:30
AUGUST
7th Quicksilver, 9:28
14th Stonecrest, 9:34
21st Pheasant Ridge, 9:30
28th Aubry's Dubbs Dred, 9:30
SEPTEMBER
4th Beaver Valley, 9:30
11th Shadow Lakes, 9:30
18th Crafton Open Major - Moon, 9:30
25th Big Skins Day – Firestone Farms, 10 am
-----------------------------------------------------
PAC Tour Handicaps Adjusted Through Rolling Acres, 7-17-16
| | | | | |
| --- | --- | --- | --- | --- |
| Balzer Nate | | 7.8 | | 7/21/2016 |
| Bioni Craig | | 4.8 | | 7/21/2016 |
| Busa Richie | | 19.0 | | 7/21/2016 |
| Carpelotti Mark | | 5.9 | | 7/21/2016 |
| Clark Brady | | 4.7 | | 7/21/2016 |
| Cochran Dan | | 10.7 | | 7/21/2016 |
| Coppler John | | 15.0 | | 7/21/2016 |
| Couhihan Jay | | 12.3 | | 7/21/2016 |
| Deak Doug | | 5.3 | | 7/21/2016 |
| DiMartino Buzz | | 5.3 | | 7/21/2016 |
| DiMartino Tim | | 7.3 | | 7/21/2016 |
| Doverspike Dave | | 19.6 | | 7/21/2016 |
| Doverspike T | | 7.3 | | 7/21/2016 |
| Edgos John | | 9.9 | | 7/21/2016 |
| Egan Frank | | 4.8 | | 7/21/2016 |
| Embert Lucky | | 5.9 | | 7/21/2016 |
| Estevam Mario | | 14.3 | | 7/21/2016 |
| Friend Jason | | 7.2 | | 7/21/2016 |
| Gary J | | 5.0 | Invalid | 7/21/2016 |
| Harrison, Brandon | | 14.6 | | 7/21/2016 |
| Hay Jim | | 8.7 | | 7/21/2016 |
| Hay Mike | | 25.3 | | 7/21/2016 |
| Hogan Pat | | 14.5 | | 7/21/2016 |
| Jesiolkiewic Carl | | 7.2 | | 7/21/2016 |
| Jesiolkiewic Lou | | 1.3 | | 7/21/2016 |
| Kotar Rich | | 7.2 | | 7/21/2016 |
| Koter, Alex | | 4.8 | | 7/21/2016 |
| Matthews Mike | | 17.4 | | 7/21/2016 |
| Mendoza Larry | | 15.5 | | 7/21/2016 |
| Murawski Ray | | 16.2 | | 7/21/2016 |
| Paris Bob | | 6.7 | | 7/21/2016 |
| Poploski Larry | | 7.0 | | 7/21/2016 |
| Raffa Len | | 8.4 | | 7/21/2016 |
| Reisker Fred | | 10.5 | | 7/21/2016 |
| RJ | | 6.0 | | 7/21/2016 |
| Sabol Dave | | 10.3 | | 7/21/2016 |
| Sear Mark | | 17.5 | | 7/21/2016 |
| Stewart Tim | | 9.1 | | 7/21/2016 |
| Sujdak Andy | | 5.5 | | 7/21/2016 |
| Surmacz Brian | | 15.9 | | 7/21/2016 |
| Thomas John | | 15.8 | | 7/21/2016 |
| Tierney Jeff | | 9.6 | | 7/21/2016 |
| Tucker Lem | | 19.3 | | 7/21/2016 |
| Wargo Mark | | 6.9 | | 7/21/2016 |
| Young Dean | | 9.7 | | 7/21/2016 |
| Zeh Bob | | 10.8 | | 7/21/2016 |
PAC Tour Handicaps Adjusted Through North Park Golf Club 7-3-10
| | | | | |
| --- | --- | --- | --- | --- |
| Balzer Nate | | 7.8 | | 7/6/2016 |
| Bioni Craig | | 6.0 | | 7/6/2016 |
| Busa Richie | | 19.0 | | 7/6/2016 |
| Carpelotti Mark | | 6.7 | | 7/6/2016 |
| Clark Brady | | 4.7 | | 7/6/2016 |
| Cochran Dan | | 10.7 | | 7/6/2016 |
| Coppler John | | 15.0 | | 7/6/2016 |
| Couhihan Jay | | 12.3 | | 7/6/2016 |
| Deak Doug | | 5.3 | | 7/6/2016 |
| DiMartino Buzz | | 5.3 | | 7/6/2016 |
| DiMartino Tim | | 7.3 | | 7/6/2016 |
| Doverspike Dave | | 21.1 | | 7/6/2016 |
| Doverspike T | | 8.3 | | 7/6/2016 |
| Edgos John | | 11.0 | | 7/6/2016 |
| Egan Frank | | 4.8 | | 7/6/2016 |
| Embert Lucky | | 5.9 | | 7/6/2016 |
| Estevam Mario | | 14.3 | | 7/6/2016 |
| Friend Jason | | 7.2 | | 7/6/2016 |
| Harrison, Brandon | | 16.1 | | 7/6/2016 |
| Hay Jim | | 8.6 | | 7/6/2016 |
| Hay Mike | | 25.3 | | 7/6/2016 |
| Hogan Pat | | 14.5 | | 7/6/2016 |
| Jesiolkiewic Carl | | 7.2 | | 7/6/2016 |
| Jesiolkiewic Lou | | 1.3 | | 7/6/2016 |
| Kotar Rich | | 7.2 | | 7/6/2016 |
| Koter, Alex | | 4.8 | | 7/6/2016 |
| Matthews Mike | | 16.9 | | 7/6/2016 |
| Mendoza Larry | | 16.5 | | 7/6/2016 |
| Murawski Ray | | 16.2 | | 7/6/2016 |
| Paris Bob | | 6.7 | | 7/6/2016 |
| Poploski Larry | | 7.9 | | 7/6/2016 |
| Raffa Len | | 8.4 | | 7/6/2016 |
| Reisker Fred | | 10.5 | | 7/6/2016 |
| RJ | | 7.5 | | 7/6/2016 |
| Sabol Dave | | 10.3 | | 7/6/2016 |
| Sear Mark | | 19.2 | | 7/6/2016 |
| Stewart Tim | | 9.0 | | 7/6/2016 |
| Sujdak Andy | | 5.6 | | 7/6/2016 |
| Surmacz Brian | | 15.9 | | 7/6/2016 |
| Thomas John | | 15.7 | | 7/6/2016 |
| Tierney Jeff | | 9.6 | | 7/6/2016 |
| Tucker Lem | | 19.3 | | 7/6/2016 |
| Wargo Mark | | 8.4 | | 7/6/2016 |
| Young Dean | | 9.7 | | 7/6/2016 |
| Zeh Bob | | 10.4 | | 7/6/2016 |
--------------
Back to top
Can't find your way? Check out this site: http://www.thegolfcourses.net/index.html
====================================


Cool sites for interested tour players:

To check your handicap status and enter a score:
http://www.kpga.com
To check the weather:
http://www.intellicast.com