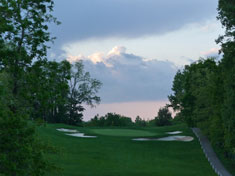 The 11th at Quicksilver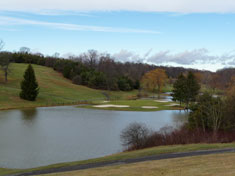 The view from the 2nd tee at Ponderosa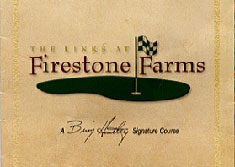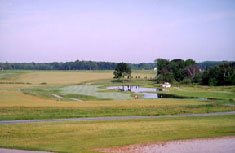 The 18th at Firestone Farms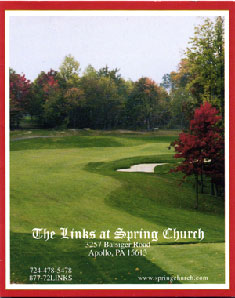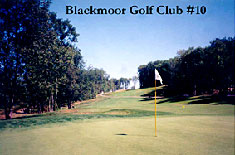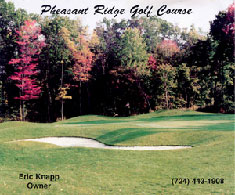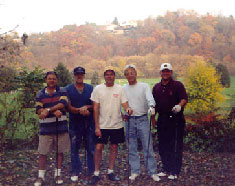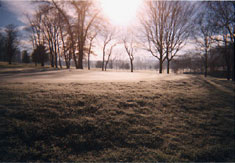 A frosty Lindenwood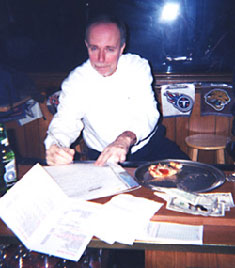 The Commish, Joe C., signing proposals into PAC law.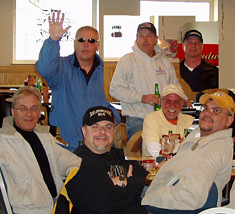 The crew at the PAC meeting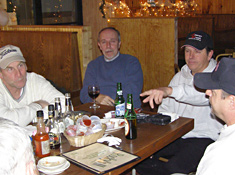 The commish ruling on cases at the Unuts Xmas party, '05.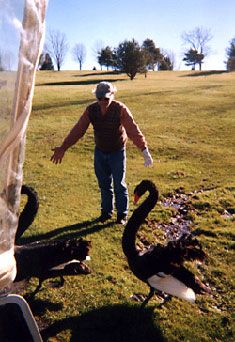 We joined up with these two strange guys on the 12th......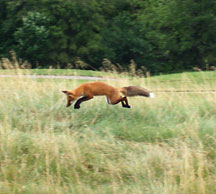 Bone's great shot of a fox at Reserve Run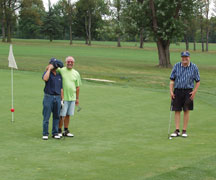 Updated Wednesday, August 27, 2014
=========
The Sudden Passing of Joe Lambert For the second time in as many weeks, the Tour has lost another long-time member, Joe Lambert. We received notice late Tuesday of his unexpected passing, and funeral arrangements are as of the time of this email incomplete. No further details are available, but a follow-up newsletter update will be forthcoming as we receive more information. We extend our condolences to Joe's family.
This Week – The South Park Labor Day Event, Tee Off 8 am. The Tour goes on and will meet this Sunday, August 31st, at the South Park Golf Course. Tee off is tentatively set for 8 am, but since starting times are not permitted, please try to be at the course to sign in by 7:30 am. This is an official Tour outing and skins money will be calculated in the Pig Trophy standings.
Next Week – Possible Change We are scheduled to play Spring Church Golf Club next week, but are currently considering a last minutes change for a surprise stop at another course that has not been on our schedule. More details to follow.
Money List The money list has been updated through Oak Tree Country Club. The race for the Pig Trophy is on with a little over a month to go in the 2014 season.

All inormation in this newsletter is protected by US copyright laws 2012. All comments made do not necessarily apply to any person living or dead and are for informational purposes only. Reproduction of any or part of this newsletter is permitted only by written consent of the PAC Tour Editor.
---
Check out Tin Cup's latest Story

===========================
2014 PAC Tour Schedule
April 6th --- Season opens. Blackmoor Golf Club --- 10 am
April 13th --- First Major – PAC Masters –
Pheasant Ridge Golf Club --- 10am
April 20th --- Firestone Farms --- 10am
April 27th --- Quicksilver --- 9am
May 4th --- MillCreek North --- 9:18 am
May 11th --- Beaver Valley Golf Club --- 9:30 am
May 18th --- Oaktree Golf Club --- 10 am
May 25th --- Village Green --- 9 am
June 1st --- Aubrey's Dub's Dread --- 9 am
June 8th --- Quicksilver ---9:04 am
June 15th --- Second Major – PAC Open –
Firestone Farms --- 8 am
June 22nd --- Ponderosa Golf Club --- 9 am
June 29th --- Tam O'Shanter --- 9:32
July 6th --- North Park --- 8 am
July 13th --- Mill Creek South --- 9:45 am
July 20th --- Third Major – The Memorial –
Beaver Valley Golf Club --- 9 am
July 27th --- Quicksilver Golf Club --- 8:48 am
Aug. 3rd --- Lake Arthur Golf Club --- 9 am
Aug. 10th --- Pheasant Ridge --- 9 am
Aug. 17th --- Oaktree Golf Club --- 9:45 am $50
Aug. 24th --- Mill Creek North --- 9: 27 am
Aug. 31st --- South Park Golf Club --- 8:00 am
Sept. 7th --- Spring Church Golf Club (Time to be determined)
Sept. 14th --- Blackmoor Golf Club --- 9:30 am
Sept 21st --- Fourth Major – The Crafton Open -
Ponderosa Golf Club --- 10 am
Sept. 28th --- Big Skins Day – Quicksilver Golf Club --- 9:30 am

-------------------------------------------------------------------
Back to top
Can't find your way? Check out this site: http://www.thegolfcourses.net/index.html
====================================


Cool sites for interested tour players:
Check out the new and exciting PAC Talk blog:
http://sujdakpaintings.tripod.com/apactourblog/

To check your handicap status and enter a score:
http://www.kpga.com
To check the weather:
http://www.intellicast.com
Andy Sujdak's website:
http://afsujdak.com