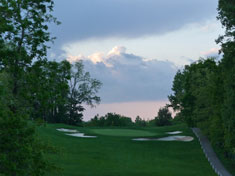 The 11th at Quicksilver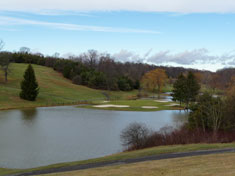 The view from the 2nd tee at Ponderosa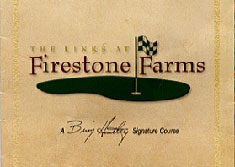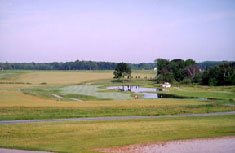 The 18th at Firestone Farms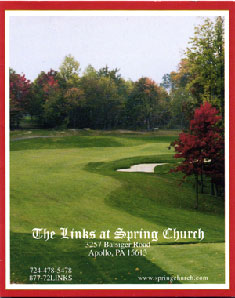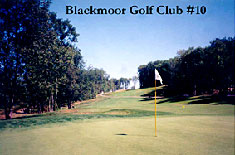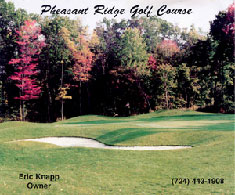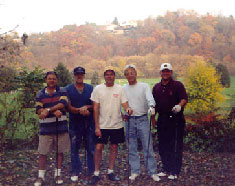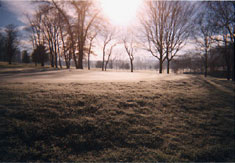 A frosty Lindenwood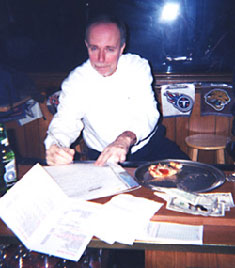 The Commish, Joe C., signing proposals into PAC law.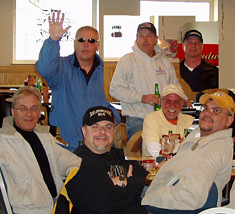 The crew at the PAC meeting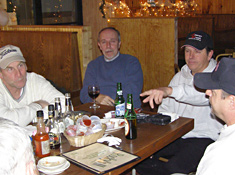 The commish ruling on cases at the Unuts Xmas party, '05.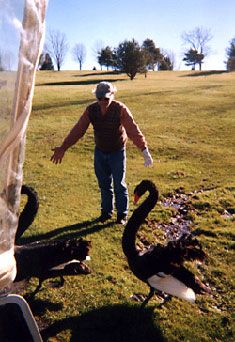 We joined up with these two strange guys on the 12th......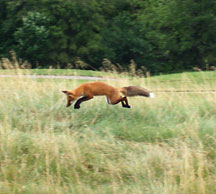 Bone's great shot of a fox at Reserve Run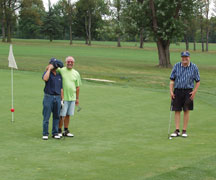 Updated Wednesday, April 27, 2016
=========
This Sunday, Pittsburgh North Golf Club, Tee Off 9:45 am. Point the car north this coming Sunday for a short jaunt up to the Pittsburgh North Golf Club. The PAC Tour is teeing it up at 9:45 am and the course always brings out the best and worst in our players. If you are planning on attending, email or text me a reply because we only have four tee times and slots are expected to fill up fast with some regulars returning to play.
Next Week's Tour Stop: Beaver Valley Golf Club, Tee Off @ 9:30 am The Tour makes its annual Mother's Day stop next Sunday at the Beaver Valley Golf Club, tee off time is a convenient 9:30am, giving you plenty of time to get back home and spend time with the mothers.
Change to By-Laws Proposed, Your Vote Is Requested Reports of politicking by Larry M. have reached the PAC Tour offices. Allegedly, Larry M. was trying to buy or influence votes for his referendum suggestion by passing out complimentary tees to players who attended last week's outing at Black Hawk Club. Reports that subliminal messages "Vote Yes" being imprinted on the top of the free tees is now being investigated. The Tour has strict policies against graft and is looking into the incident. Stay tuned. Updates to follow. The voting is continuing. The question is: "Should money won in the four PAC Tour major events be included in the official money standings? Please vote Yes or No. Currently, the votes thus far received indicate no clear winner so if you haven't already voted, please do so and let your voice be heard.
PAC Tour Facebook Page Check our new additions to our PAC Tour Facebook page and post your own. Here's the link: https://www.facebook.com/The-PAC-Tour-1527596224120207/
All inormation in this newsletter is protected by US copyright laws 2012. All comments made do not necessarily apply to any person living or dead and are for informational purposes only. Reproduction of any or part of this newsletter is permitted only by written consent of the PAC Tour Editor.
---
Check out Tin Cup's latest Story

===========================
2016 PAC Tour Golf Schedule
APRIL
3rd Quicksilver, 9:30 - $45
10th PAC Masters Major – Pheasant Ridge Golf Course, 10:00
17th Rolling Acres, 10:00 N & S
24th Blackhawk, 10:00 1 & 2
MAY
1st Pittsburgh North, 9:45
8th Mother's Day – Beaver Valley Golf Club, 9:30
15th Stonecrest, 9:34
22nd Aubrey's Dubbs Dred, 9:30
29st Memorial Day weekend, North Park, 8:00
JUNE
5th Shadow Lakes Golf Club, 9:30
12th Hiland. 10:00
19th PAC Open Major - Firestone Farms, 9:50
26th Rittswood, 9:30
JULY
3rd Fourth of July Holiday Weekend - North Park Golf Course, 8 am
10th PAC Memorial Major - Pittsburgh North, 9:45
17th Rolling Acres N & S, 10:00
24th Blackhawk 3 & 4, 9:20
31st Beaver Valley Golf Club, 9:30
AUGUST
7th Quicksilver, 9:28
14th Stonecrest, 9:34
21st Pheasant Ridge, 9:30
28th Aubry's Dubbs Dred, 9:30
SEPTEMBER
4th Beaver Valley, 9:30
11th Shadow Lakes, 9:30
18th Crafton Open Major - Moon, 9:30
25th Big Skins Day – Firestone Farms, 10 am
-----------------------------------------------------
PAC Tour Handicaps Adjusted For Pittsburgh North Golf Club, 5-1-16 All handicaps calculated @75% with a maximum handicap of 18 for the skins game.
| | | | | |
| --- | --- | --- | --- | --- |
| Balzer Nate | | 7.8 | | 4/27/2016 |
| Bioni Craig | | 5.9 | | 4/27/2016 |
| Busa Richie | | 18.0 | | 4/27/2016 |
| Carpelotti Mark | | 6.5 | | 4/27/2016 |
| Clark Brady | | 4.7 | Invalid | 4/27/2016 |
| Cochran Dan | | 10.7 | | 4/27/2016 |
| Coppler John | | 15.0 | | 4/27/2016 |
| Couhihan Jay | | 12.3 | | 4/27/2016 |
| Deak Doug | | 5.3 | | 4/27/2016 |
| DiMartino Buzz | | 5.3 | | 4/27/2016 |
| DiMartino Tim | | 7.3 | | 4/27/2016 |
| Doverspike Dave | | 18.0 | | 4/27/2016 |
| Doverspike T | | 8.0 | | 4/27/2016 |
| Edgos John | | 8.2 | | 4/27/2016 |
| Egan Frank | | 5.1 | | 4/27/2016 |
| Embert Lucky | | 5.8 | | 4/27/2016 |
| Estevam Mario | | 14.3 | | 4/27/2016 |
| Friend Jason | | 7.2 | | 4/27/2016 |
| Harrison, Brandon | | 16.0 | | 4/27/2016 |
| Hay Jim | | 7.9 | | 4/27/2016 |
| Hay Mike | | 18.0 | | 4/27/2016 |
| Hogan Pat | | 14.5 | | 4/27/2016 |
| Jesiolkiewic Carl | | 7.2 | | 4/27/2016 |
| Jesiolkiewic Lou | | 1.2 | | 4/27/2016 |
| Johnson Rick | | 13.2 | Invalid | 4/27/2016 |
| Kotar Rich | | 7.2 | | 4/27/2016 |
| Koter, Alex | | 4.6 | | 4/27/2016 |
| Langston Rob | | | No Scores | 4/27/2016 |
| Matthews Mike | | 16.9 | | 4/27/2016 |
| Mendoza Larry | | 16.6 | | 4/27/2016 |
| Murawski Ray | | 15.9 | | 4/27/2016 |
| Paris Bob | | 6.7 | | 4/27/2016 |
| Poploski Larry | | 4.8 | | 4/27/2016 |
| Raffa Len | | 9.7 | | 4/27/2016 |
| Reisker Fred | | 7.6 | | 4/27/2016 |
| RJ | | 5.1 | | 4/27/2016 |
| Sabol Dave | | 9.6 | | 4/27/2016 |
| Sear Mark | | 15.1 | | 4/27/2016 |
| Stewart Tim | | 9.7 | | 4/27/2016 |
| Sujdak Andy | | 5.1 | | 4/27/2016 |
| Surmacz Brian | | 15.9 | | 4/27/2016 |
| Swiderski Dan | | | No Scores | 4/27/2016 |
| Thomas John | | 15.7 | Invalid | 4/27/2016 |
| Tierney Jeff | | 10.5 | | 4/27/2016 |
| Tripani Chip | | 8.2 | Invalid | 4/27/2016 |
| Tucker Lem | | 18.0 | | 4/27/2016 |
| Wargo Mark | | 7.8 | | 4/27/2016 |
| Young Dean | | 9.7 | | 4/27/2016 |
| Zeh Bob | | 9.3 | | 4/27/2016 |
--------------
Back to top
Can't find your way? Check out this site: http://www.thegolfcourses.net/index.html
====================================


Cool sites for interested tour players:

To check your handicap status and enter a score:
http://www.kpga.com
To check the weather:
http://www.intellicast.com
Andy Sujdak's website:
http://afsujdak.com